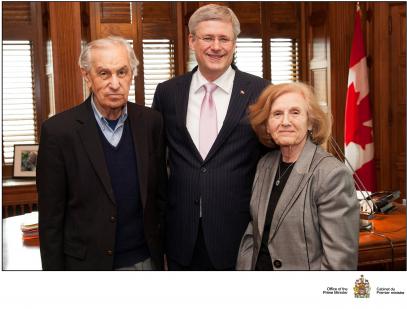 Back to search results
Death of David Shentow - Holocaust Survivor
Date: 12/06/2017
It is with sadness we relay the news of the death of David Shentow. I have worked with David Shentow and his wife Rose, in telling his story of survival while he was a captive of the Nazis in a Jewish slave labour camp in the Nord Pas de Calais and he was always patient and understanding with my inquiries and willing to help, even if I was calling on him to recall difficult memories. I was able to initiate and initially script the making of a documentary on his experiences in France, working on the Chemin des Juifs, which also dealt with his later experiences in Auschwitz. David was dedicated to telling people about his experiences and doing his part in perpetuating both memory and helping make the world in the future a better place with more understanding. David's work and legacy will live on.

The photograph is of David and Rose, with Canadian Prime Minister Harper.
SHENTOW, David
On Monday, June 12, 2017, at Bradgate Arms Retirement Residence in Toronto, David Shentow passed away at age 92 with his wife and daughters by his side. Beloved husband of Rose for 67 years, devoted and loving father to Renée and Lorie, grandfather to Michael and Rachel, great- grandfather to Rachel and Chaim's children: Esti, Miri and Momo. David, recipient of the Diamond Jubilee Medal in 2012, and Sovereign's Medal for Volunteers earlier this year, touched many lives, particularily when telling of his experiences during the Holocaust. Born in Warsaw, Poland and growing up in Antwerp, Belgium with his parents and two younger sisters, David was the sole survivor of his family. He was dedicated to Holocaust education. Always accompanied by Rose, David accepted invitations from schools, universities and organizations to share his testimony, participated in March of the Living four times, and appeared in documentary films about the Holocaust. Passionate about the arts and travel, his zest for life was unmatched. David's generosity, warmth and sense of humour charmed everyone in his presence. Memorial donations may be made to the March of the Living, 416-398-6931 or to the charity of your choice.