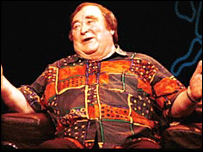 Back to search results
Bernard Manning
by Zeddy Lawrence
In an age of political correctness, he may have been reviled as a racist, but Bernard Manning, who died in June 2007, was extremely proud of his Jewish roots.
He traced his own ethnic heritage back to a Jewish family in Ukraine.
The controversial comic epitomised the clubland comedy circuit of the 1970s, telling jokes about blacks, Asians and, yes, Jews, which the following decade would see him spurned by the increasingly mainstream alternative scene.
But even though he was brought up a strict Catholic in Manchester, his father's family came from the city of Sebastapol, where they were actually called Blomberg.
And having bought his home in Alkrington from a Jewish family, the comedian took immense delight in the plaque on the front door which read "Shalom".
Journalist Jonathan Margolis, who wrote Manning's biography said: "Bernard was very mysterious about his Jewish background. He told me I could tell people about it when he was dead.
I think he wasn't sure it would be good for business in the racial jokes game given his far-right following. And he also believed there were remnants of the Blomberg family in Philadelphia who weren't that well off and he was terrified they'd come over and shnorrer from him."
But despite Manning's misgivings about going public with his roots, Margolis says the 76-year-old comic loved all things Jewish. "No one could tell a Yiddishe story like him," the author recalled, adding, "He was incredibly popular with the North Manchester Jewish community and he had a retinue of very close Jewish friends.
"He also loved salt beef. Whenever I came to visit, he insisted I bring him salt beef and latkes."
As to the charge in his later career that he was racist, Margolis said: "He was baffled by it. He used to say 'how can I be racist if my home is called Shalom?'
"If Bernard was racist then Jackie Mason is too. I think he gave the political correctness lobby a kosher way to hate the white working class.
"Bernard was a good guy, very caring and very strong on family… family loyalty was everything to him. He was a real mixture of Catholic and Jewish."
© The Jewish News & www.totallyjewish.com