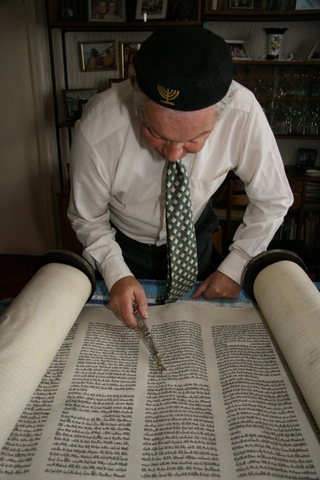 Back to search results
Rudi Leavor
Rudi Leavor
Ruid Leavor recounts his escape from Nazi Berlin to Bradford with his family. (Interview and photograph David David)
How did you come to Bradford and why Bradford?
My father was a dentist in Berlin and he had to get permission from the Home Office and the Dental Board to come here in the first place and to practise as a dentist. When he got permission from both the Home Office and the Dental Board, my father didn't know much of the geography of England, and he asked where he could work and they said anywhere but London and Manchester because there were already too many Jewish refugee dentists in those towns. So my father said "Where can I work?", and the clerk put a metaphorical pin in the map, and Bradford was fairly central and so he said go to Bradford. So my father got onto the next train to Bradford and reconnoitred the situation here.
Has the Jewish community changed a lot from when you were younger, and if so how has it changed?
When we came to Bradford there were probably over a thousand Jewish people in Bradford. Most of them belonged to the Orthodox synagogue, and the remainder belonged to the Reform synagogue. The two synagogues were on the two sides of Manningham Lane but within walking distance, and on Yom Kippur I can remember if the services got a bit boring, people from both synagogues would cross Manningham Lane to the other one, for half an hour or so, and on Manningham Lane there would be like a stream of ants meeting each other going to the other synagogue. But now I should think there are no more than about 300 Jewish people in Bradford and the Orthodox synagogue has moved to Shipley a couple of miles away from the Reform which is still where it was, and so there is no longer the interchange of people on Yom Kippur. Attendance at synagogue has dwindled, mainly because there are fewer people, and people have moved away to outlying districts and would think twice now about coming to synagogue on Shabbat or festivals.
Tell me about your family background.
Both my grandfathers were very Orthodox. My paternal grandfather died when he was about 53 in about 1913 and so I didn't know him, and he was President of the Jewish community in Purtzaltzhaur or Ratslav depending on whether the name of the town was in Polish or German, and he was also the mohel of the community. My maternal grandfather lived in Frankfurt where the Jewish community was a very unique one they had their own minhag for some of the services they were so frum. He emigrated to what was then Palestine in 1934, but I did know him. His wife died in 1929 of cancer and I knew her briefly when I was 3. My paternal grandmother I knew very well until our emigration in 1937 and she later died in Terezenstadt concentration camp, I believe of old age, I don't think that she was actually murdered. My parents in Berlin had a kosher household and we used to go to synagogue fairly regularly -- I would go on Shabbat as I didn't have school, but my father worked and he would go on the festivals. When we emigrated in 1937 we settled in Bradford, and we continued to have a kosher household and during the war the food situation was not very good and I seem to remember that the Chief Rabbi gave dispensation to people that they could eat not kosher food. We joined the Orthodox synagogue until about 1950, when we changed to the Reform synagogue, for personal rather than religious reasons. We fitted into the Reform synagogue quite well, and my father became chairman eventually and I became chairman as well; I'm chairman now in my second time round. In 1955 I married a girl who came from London, to a girl who had a similar background to mine; she came from Bretslav in Germany which is now called Vrotslav in Poland. We settled in Bradford where I had become a dentist, and we had four children, two boys and two girls and they too have got married, and we now have eight grandchildren, aged from 13 down to a few months old.
How do you find living in Bradford?
I was lucky enough to get a place in Bradford Grammar School when we first arrived in Bradford and my school days were happy -- it was a good school and I was a fairly good pupil. The people in Bradford were friendly, whether they were Jewish or not Jewish and life was fairly leisurely compared with London. Life in London is hectic, it's very nice to go there and visit relatives and friends, but it is very nice to come back to Bradford it is a quiet, or a quieter life. I have always liked living here and I feel very much at home in Bradford.