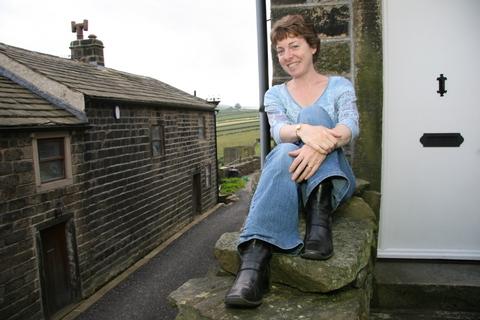 Back to search results
Tamar Yellin
Tamar Yellin
Tamar Yellin, children's author and writer talks about her Bradford Jewish connection. (Interview David David)
How did you come to Bradford, and why Bradford?
I grew up in Leeds and from a very early age, from the age of about 9 or 10, I was very keen on the Bronte sisters and I used to come up here with my mother and visit the countryside around Bradford, visit Howarth and the parsonage, go walking on the moors and from the age of 10 or 11 I wanted to live in Bronte country, and when I grew up I came out to live here, and live in a cottage on the moors, which is what I had always dreamed of; so I ended up here.
Tell me about your family background.
Well as I say I was born in Leeds, but my family was somewhat unusual for the area. My father was a Jerusalemite, and his family there goes back several generations, to the mid nineteenth century. My father as a young man in the mid 30's came to London to study, but the war broke out so he never got a chance to study. He met my mother in London on the eve of World War II and they fell in love and got married and my father never went back to Jerusalem to live. My mother was born in Leeds. Her mother emigrated from Poland in 1914 at the age of 14 with her young siblings; they left the shtetl in Poland where they had a very hard life and they came here looking for something better. So they ended up in Leeds, I'm not sure why, but I think that often people docked in Hull and thought it was New York, and my mother was born in Leeds. After the war my parents decided to go back up to Leeds and joined my maternal grandfather's furniture making business, and my father ran the factory until his retirement.
What are the big differences between Bradford in the past, and Bradford now?
I was a Leeds girl, and we only came to Bradford to the skating rink, we used to think "Why go to Bradford?" And even now when I live in the Bradford postal district I still go to Leeds shopping, I go to Leeds to the synagogue, and my sister lives in Leeds; but I go to Bradford to make use of the cultural facilities; that has been a big improvement since I first moved here 23 years ago: the arts cinema, the theatre, and restaurants. There have always been good restaurants in Bradford but Bradford has been on the up and up in recent years and with the big city centre renovation that is going on Bradford is going to be a happening place.
How do you find living in Bradford?
I don't really feel myself living in Bradford. I live in a small village 10 miles outside Bradford. I do feel the connection with Bradford because I work in Bradford, I go into Bradford schools, I did my teacher training in Bradford, and I feel a strong connection with Bradford educationally. I feel very concerned with Bradford and I care about what is happening with education in Bradford, and the children there; I've been a faith advisor for the Interfaith centre for 14 years now; I've been into dozens of schools over that time and feel its very important the work I do; its one of the most important things in my life -- sharing my Jewish heritage with Bradford schoolchildren, and connecting with the various communities there.
Living here feels like home now, and it took a long time to feel at home. I love this landscape and feel a deep connection to it and when I have moved away, I lived abroad for two years, and I felt homesick for it. I don't think I would live anywhere else.