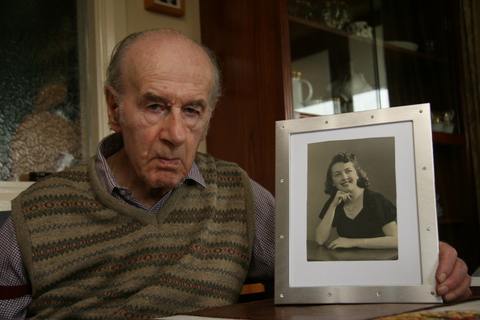 Back to search results
Frank Reiman
Frank Reiman recalls his origins in Czechoslovakia and his family connections with the textile industry and his career as a wool merchant (photo shows Frank Reiman with his late wife).
How did you come to Bradford and why Bradford?
I came to Bradford first in 1937 and I came to Bradford because of its association with the wool trade which I was brought up with in my native country which is Czechoslovakia.
Has the Jewish community changed a lot from when you were younger?
I have difficulty answering that question because I was not terribly active in the religious life of the community; and as you know there are two communities here, and I belong to the Reform one.
Tell me about your family background.
My family background goes back to my home in Czechoslovakia, where my father had a textile manufacturing business, and because of Hitler coming in to Czechoslovakia I left in 1939. I lost my wife about 5 years ago and I'm living on my own, not in very good health. I have two sons, who don't live nearby, one lives in London and one in Devon, and they have families, and again they are not taking much part in the religious life of the community.
What are the big differences between Bradford in the past, and Bradford now?
Bradford in the past was a very rich city, the metropolis of the wool trade in the world, in about 1910, and that was the reason why I came to Bradford, and unfortunately it has declined ever since, and the wool trade is no longer the primary trade of the city.
How do you find living in Bradford?
Bradford is a very cosmopolitan town, probably due to the wool trade and I found people very pleasant and very helpful, particularly in times when we needed them very badly.
Why did your children move away from Bradford?
Because the wool trade in which I was brought up was no longer of interest to them, and they chose quite different careers, in London and in the West Country.
2007